BRYAN PRINGLE 1935-2002
Bryan Pringle, actor, was born at Glascote, Staffordshire, on January 19, 1935. He died on May 15, 2002, aged 67.
Character actor who was equally at home in television's The Dustbinmen and Pinter's The Birthday Party. The actor Bryan Pringle became a household name through his portrayal of Cheese-and-Egg, the rascally foreman of a group of refuse collectors in Jack Rosenthal's 1969 television comedy series The Dustbinmen. The leader of a gang of unruly and vulgar binmen who ignored the rules and alarmed residents, Pringle's character enlivened the show as he tried to keep his men happy while appeasing both householders and bosses.

He was in the right place at the right time. Since the beginning of the 1960s there had been a constant demand for working-class actors -"I was all right as long as I kept quiet about the minor public school," he quipped - and Pringle, with his dry humour, long face and pitiful looks, found himself frequently called upon to play these realistic and often gritty roles. "I don't particularly like playing nasty characters," he explained, "I was just born with a face that nobody would think well of."

The Dustbinmen was a classic example of his ability to adapt to the stereotype, and after six shows had topped the viewing figures a second series was commissioned. But the director of public cleansing in Salford, where the series was based, did not share the enthusiasm, claiming that the cast bore no relation to real-life dustmen. "The majority are far more intelligent," he said. "I personally don't think it's funny, and it makes dustmen out to be complete clots." Pringle was unapologetic: "It shows that people who are working on a bloody awful job are human beings."

He went on to star as the tough and unorthodox Sergeant Flagg in The Growing Pains of PC Penrose, supervising a young police officer (Paul Greenwood) as he experiences life as a new boy in the force; and a collection of other parts that included publicans, child abusers, policemen and prisoners.
His television plays included On Giant's Shoulders (1979) with Judi Dench, a powerful tale of the thalidomide son of black-Jamaican and white-British parents who is dumped in a home for unwanted children. A local couple - Pringle and Dench - try to adopt him, which in turn leads to the involvement of an endless parade of bureaucrats.

But the small screen was merely one, albeit extremely important, outlet for Pringle's talent. Almost invariably his work included an element of socio- political comment. He undertook his fair share of work for the Royal Shakespeare Company, which included playing in The Birthday Party (1964), with Pinter himself directing, and spending his evenings in a dustbin as Nagg in Beckett's Endgame (1964). Both were staged at the Aldwych. One critic referred to The Birthday Party as "a night to remember with the maddest, saddest, greatest performances by Brewster Mason, Patrick Magee and Bryan Pringle".

Bryan Pringle was the son of an itinerant working-class vicar. His relationship with his mother was a difficult one, and from a young age he was brought up largely by a family friend. He was educated at St Bees in Cumbria, where a hopelessly traditional English master told him that as he had "not a hope in hell of any O levels" he had better become an actor. He went to Eric Capon's preparatory school for RADA and then on to the academy itself, part of the vintage 1954 intake that included Peter O'Toole and Brian Bedford.

But it wasn't all plain sailing. "After three terms I got slung out for being such a terrible actor," he recalled in a Times interview 20 years ago, "but my father wrote them a stiff letter signed 'Rev C. Pringle' all about the godly virtues of giving young people a second chance in life, and so they took me back in and at the end of the last term I got the gold medal for my Abraham Lincoln."

From there, Pringle entered the Old Vic as a spear carrier in the dying days of Michael Benthall's five-year plan. He followed it with a long run of repertory work. "But with a beaten-up face like mine, and H. M. Tennent still filling the West End with upper-class classics, there didn't seem much point in hanging around London, so I went up to Sam Wanamaker's theatre in Liverpool and we did One More River."

He moved over to the Nottingham Playhouse, playing Private Smith in Willis Hall's Boys It's All Hell. He was the only survior of the original cast to reach London, where it was renamed The Long and the Short and the Tall at the Royal Court.Along the way he had, he admitted, a reasonable share of flops, including Close the Coalhouse Door. "It was a wow in Newcastle," he recalled, "and apparently incomprehensible further south."

Similarly, a farce that played for two years in Paris - in which Pringle, Brian Murphy and Jane Asher appeared as cats - ran for just two nights in London. "It had played at the Theatre de la Poche," he explained, "and nobody ever told me that poche meant pocket and they'd only 13 seats to fill at each performance."

His long list of credits extended to the stage as Michael Crawford's father in the West End musical Billy (1974); television, in a range of popular shows including All Creatures Great and Small and Casualty; and film, not least Twiggy's father in Ken Russell's The Boy Friend (1971) and the raunchy part of Jake alongside the actress Jane Gurnett in the 1988 cult movie Drowning By Numbers. The film opens with them making love in a tin bath but the fun comes to an end when his wife storms in and drowns him.

Like many of his characters Pringle was a down-to-earth individual. "What I enjoy are things like drinking pints with the boys and going to rugger matches," he told readers of TV Times in 1964. "I'd much rather watch than play. I'm dead lazy. Apart from acting I don't really do anything. I don't want to. It suits me fine just sitting around doing nothing."

Bryan Pringle was married to the actress Anne Jameson, who died in 1999.
He is survived by a son and a daughter.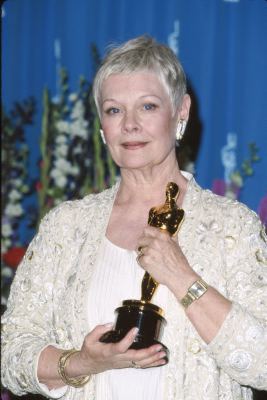 DAME JUDI DENCH
Oscar and BAFTA winning British actress Dame Judi Dench played Hazel Wiles, wife of Len and mother of Terry, in the 1979 BBC2 'Play for the Week' presentation of 'On Giant's Shoulders.'

Famous for her roles in 'Iris', 'Shakespeare in Love', 'Mrs Brown'and the latest 'M' in the James Bond films.

One of Britain's most respected and popular actresses, Judi Dench can claim a decades-old career encompassing the stage, screen, and television. A five-time winner of the British Academy Award [BAFTA], she was granted an Order of the British Empire in 1970 and made a Dame of the British Empire in 1988.


Born in York, England, on December 9, 1934, Dench made her stage debut as a snail in a junior school production. After attending art school, she studied acting at London's Central School of Speech and Drama. In 1957, she made her professional stage debut as Ophelia in the Old Vic's Liverpool production of Hamlet. A prolific stage career followed, with seasons spent performing with the likes of the Royal Shakespeare Company and the National Theatre. Dench broke into film in 1964 with a supporting role in The Third Secret. The following year, she won her first BAFTA, a Most Promising Newcomer honor for her work in Four in the Morning. Although she continued to work in film, Dench earned most of her recognition and acclaim for her stage work. Occasionally she brought her stage roles to the screen in such film adaptations as A Midsummer Night's Dream (1968) and Macbeth (1978), in which she was Lady Macbeth to Ian McKellen's tormented king. It was not until the mid-1980s that Dench began to make her name known to an international film audience. In 1986, she had a memorable turn as a meddlesome romance author in A Room with a View, earning a Best Supporting Actress BAFTA for her tart portrayal. Two years later, she won the same award for her work in another period drama, A Handful of Dust.


After her supporting role as Mistress Quickly in Kenneth Branagh's acclaimed 1989 adaptation of Henry V, Dench exchanged the past for the present with her thoroughly modern role as M in GoldenEye (1995), the first of the Pierce Brosnan series of James Bond films. She portrayed the character for the subsequent Brosnan 007 films, lending flinty elegance to what had traditionally been a male role. The part of M had the advantage of introducing Dench to an audience unfamiliar with her work, and in 1997 she earned further international recognition, as well as an Oscar nomination and Golden Globe award, for her portrayal of Queen Victoria in Mrs. Brown. The following year, Dench did win the Oscar, garnering Best Supporting Actress honors for her eight-minute appearance as Queen Elizabeth in the acclaimed Shakespeare in Love. Her win resulted in the kind of media adulation usually afforded to actresses one-third her age. The following year, Dench continued to reap both acclaim and new fans with her work in Tea with Mussolini and the Bond extravaganza, The World is Not Enough. For her role as a talented British writer struggling with Alzheimer's Disease in Iris (2001), Dench earned her third Oscar nomination.


While her screen career has taken on an increasingly high-profile nature, Dench has continued to act on both television and the stage. In the former medium, she endeared herself to viewers with her work in such series as A Fine Romance (in which she starred opposite real-life husband Michael Williams) and As Time Goes By. On the stage, Dench made history in 1996, becoming the first performer to win two Olivier Awards for two different roles in the same year.

Rebecca Flint, All Movie Guide